Sapphire Landscape can design and install a beautiful landscape giving your property great curb appeal. Our goal is to work with you to create the landscape of your dreams while professionally maintaining it all year round.
We work to make your landscape healthy without harming you, your family or your pets. Our goal is to give you a dependable, affordable, top-notch choice for their lawn and landscape needs.
Our expertise is giving your home curb appeal. We know that our combination of personal attention, top of the line plants, and a complete program containing quality products will give you a thicker, greener lawn and a beautiful landscape. We offer a wide variety of lawn maintenance services to our clients from lawn mowing to landscape design.
We also provide special services to real estate agents and home owners who are trying to sell their home. We will do a complete landscape make ready on the outside giving the home a well manicured look and adding to its curb appeal.
We also provide online scheduling at your fingertips. Just click the schedule now button and make your appointment. This allows you to have your lawn maintained even if your away. We will bill you by credit card and take care of your lawn at the same time.
Sapphire landscape just formed a strategic partnership with TRUGREEN. We are excited to offer our customers new top notch services that can only be provided by TRUGREEN.
Click the Trugreen logo to see services.
Cost is $99.00 per application retail or $45.00 for Garden Club members. Price based on a 3000 sqft lawn.
Your lawn will get the ultimate tree
Online Scheduling System
ent
Lawn mowing
Edge trimming
Shrubbery trimming
Root feeding
Fertilizing
Seasonal color planting

Pruning
Spring and fall clean ups

Weed control

Debris and lot clearing

Fence Repair
Residential and commercial service
Limb and Branch Removal
Join our Garden Club today and save $$$$$$$$$$
Flowerbed Design and Curb Appeal

Let Sapphire landscape design and install your fall flowerbeds and landscape.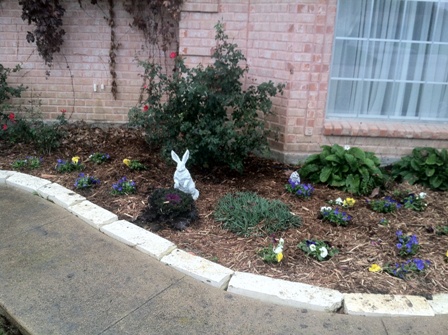 Testimonials
The special was 2 men for 2 hours, and the guys who came definitely worked the entire time and a little bit over without charging me extra. My front and back yards were a mess from winter, weeds, leaves, small tree branches, and years of pecan nuts fallen from the backyard tree. In 2 hours these guys transformed both yards and got them ready for spring mowing service. They pulled out 3 dead scraggly rose bushes, weeded and re-mulched 2 flowerbeds , mowed, blew and raked leaves, and spread pre-emergent crabgrass treatment I bought for free with my spreader in both yards. They raked a lot of pecan nuts out of the lawn - not all, but there were layers of old nuts for years. They bagged and hauled away all the leaves and debris that they cleaned up. Even though I took advantage of the special price, these guys would be well worth the regular price.
I could not afford the regular price to get my back yard cleaned up, so the special really came in handy. $200 worth of work for $99. The team came out and raked up leaves and spiney balls from the sweet gum trees and had about 20 large trash bags full when they finished. I think it was a good price and I may get them to come back and do the regular lawn maintenance every other week. I liked the fact that I could communicate with them and there was no language barrier like I have come across several times. They seemed honest and trustworthy.
I recently purchased a home in Mesquite with an extra large corner lot. It had been sitting empty for quite awhile and the yard was out of control. There are several large trees which had shed their leaves and weather had taken its toll. I purchased the $99 special. The owner and his son arrived on time and were professional and personable. I am thrilled with the results. They had their work cut out for them and they didn't shy away from it. I told them they didn't have to mow but they insisted. I have had lawn service before in another City and hated the swoop in and swoop out method. Not with these guys. If you are looking for good old fashioned work ethic this is the place to call.